Srinagar/Pulwama - Abdul Majeed Wani lifts a plastic box from the ground and places it on one of the steel shelves adjacent to the walls of his house in the Pampore area of Pulwama district on the Indian side of Kashmir.
The 65-year-old farmer has dozens of such boxes lying under an open sky. He has planted saffron corms inside boxes filled with soil.
'I started indoor, or vertical, saffron farming a few years ago,' said Wani. 'I was one among a few people who took the risk of cultivating the treasure spices using the modern technique.'
Saffron, also known as red-gold because of its color and high cost, is cultivated at high altitude, including Indian administered Kashmir's Pampore region.
Saffron is nicknamed as red-gold. The red strains are separated from yellow ones and flowers after cultivation is over. (Wasim Nabi for VOA)
The decision to cultivate saffron inside a living room, Wani said, turned out to be fruitful. He reaps half a kilogram of the king of all spices annually inside a space that outdoors would require 400 square meters of land.
'The strains are of high quality in comparison to ones cultivated in the field,' Wani told VOA. 'One can produce as much quantity of saffron as he desires, but all he needs to have is a good number of corms,' he said, noting that a room, racks and plastic trays are sufficient to grow the crop.
Switching indoors
The production of saffron in the Himalayan region, according to farmers, had decreased over the last decade because of climate change.
The rapid urbanization in the town also took a toll because land for cultivation shrank from 5,700 hectares in the late 1990s to 3,700 hectares in 2020.
Saffron production in the Himalayan territory has decreased due to climate change and rapid urbanization. (Wasim Nabi for VOA)
The Jammu and Kashmir government took the initiative to boost the saffron industry by developing an irrigation plan in 2010, but it was not implemented.
To revive the lost glory of the sector, local scientists affiliated with the Sher-e-Kashmir University of Agricultural Sciences and Technology, or SKUAST, 'demonstrated indoor saffron cultivation' at its Advanced Research Station for Saffron and Seed Spices, or ARSSSS.
Multiple trials were conducted by scientists at the residential houses of farmers having little or no land in the Kashmir valley.
'The first part of the technology to grow saffron inside under ambient and controlled conditions turned out to be successful,' Dr. Bashir Ahmad Ellahi, professor and the head of the ARSSSS, told VOA. 'The second part of the experiment related to corm production inside under controlled conditions is in [its] final stage of testing at the research center.'
Saffron corms require cool temperatures for germination. Some farmers, who have adopted vertical farming, sow corms back into the ground, while the rest put the seeds inside plastic boxes and keep them in open air.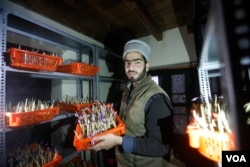 Vertical, or indoor, saffron farming is a new concept that has emerged in the Indian side of Kashmir. (Wasim Nabi for VOA)
In July, saffron corms are removed from the soil and placed on trays to bloom.
The crop is cultivated in mid-October. The red strains are supplied to different parts of the world after separating them from the yellow ones and flowers.
'If results of the second part of the experiment come in our favor, it means saffron can be grown indoors anywhere without taking corms back to fields,' Ellahi said, adding that the new technique will prove beneficial for 'people who have less or no land in terms of production, as well as income.'
New farmers
Firdous Ahmad Bazaz, a tour operator, is passionate about vertical saffron farming.
'It is something that will help me to earn a good amount of money ... when I am facing challenges in my business,' Bazaz said. 'I can cultivate one kilogram of saffron in an empty room at my home.'
Firdous Ahmad Bazaz is among dozens of people who want to adopt vertical saffron farming to generate extra income. (Wasim Nabi for VOA)
Bazaz says people affiliated with the tourism industry face financial issues because of unfavorable conditions in the disputed region caused by political conflict.
'I will not have to worry about strikes or lockdowns after adopting indoor farming,' Bazaz told VOA. 'I can easily manage both vertical farming as well as business.'
Traditional cultivation advocates
Irshad Ahmad Dar, another farmer, believes that cultivating saffron indoors is not a good idea.
He said that local government should also give attention to the traditional way of cultivating the crop.
'What is the fun of vertical farming if one has to sow corms back into the fields?' Dar questioned. 'Entire process right from vegetation to cultivation should happen either inside or outside.'
Dar told VOA that he is not opposing the SKUAST experiment but wants the government to pay attention to traditional ways of cultivating the crop.
'Saffron is our identity and heritage crop, and I, as a young person, want saffron cultivation to last for our future generations,' he said. 'Whatever it takes to save saffron we should do it.'
Shahnawaz Ahmad Shah, agriculture officer of the Pulwama district and nodal officer for Saffron, said that internal farming has proven successful, but the result of the entire experiment is 'yet to be declared.'
'We cannot recommend the use of vertical saffron for everyone until we get clearance from SKUAST,' he told VOA. 'It is just a matter of a few months, and only then can we recommend people adopt the new technique.'